Today I have a special treat for you - a card! It's been a while since I last made a card but this time I got inspired to try something else.
This card has two sources of inspiration. First of all my co-worker messaged me when he was throwing some old jeans away that maybe I would like them as he knows I'm always gathering fun objects to be used in canvases and other projects. Of course I said yes as jeans buttons are really cool. The second inspiration was
Fran, who did a card using denim some time ago
. And ok, there was also third inspiration source - I wanted to do a thank you note to my co-worker about thinking of me.
So from those sources this card emerged. I cut a piece of the jeans as the bottom layer and adhered it to my card base. I wanted to use a piece where there was this little tear or rather where the fabric had worn out and also have the seam showing. Then I layered some book paper on top using gesso as adhesive and then added a piece of patterned paper on top. There's also some masking tape and washi tape in there.
Besides the piece of denim as the bottom layer I also used a belt loop and a rivet from the jeans in my card. Continuing the recycling theme I framed the flairs I used with bottle caps. They really bring that grungy feeling to the piece, right? I chose
two flairs from the "Lovely Words 10"
set because of their vintage, grungy feel. Also the "Feel" word felt right for the card - like follow your feelings, find a way.
Thank you for your visit!
Set used in this card: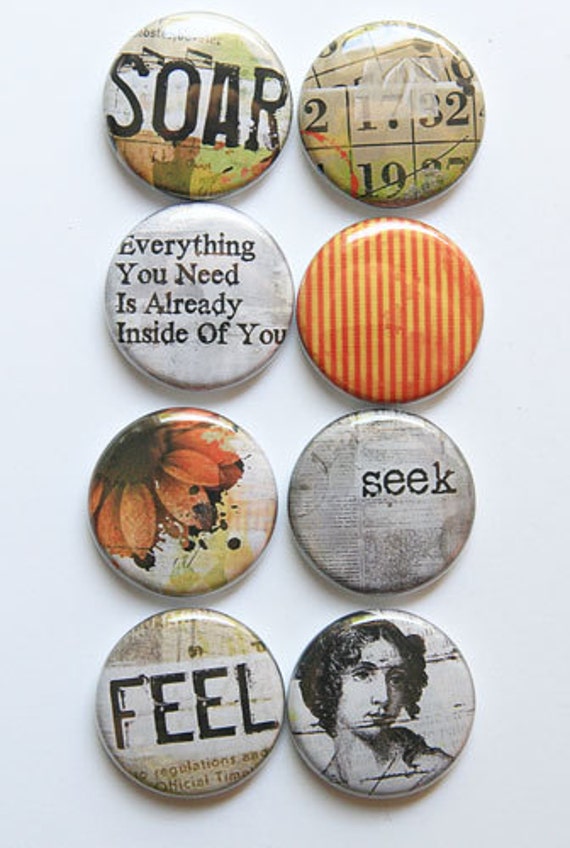 Materials: A Flair for Buttons, Prima Marketing, Scrap FX, 7 Dots Studio, Teippitarha, Ranger, Fiskars